Click on this flyer
or on the button in the right hand column:
"Click Here to Donate Online to Holy Trinity"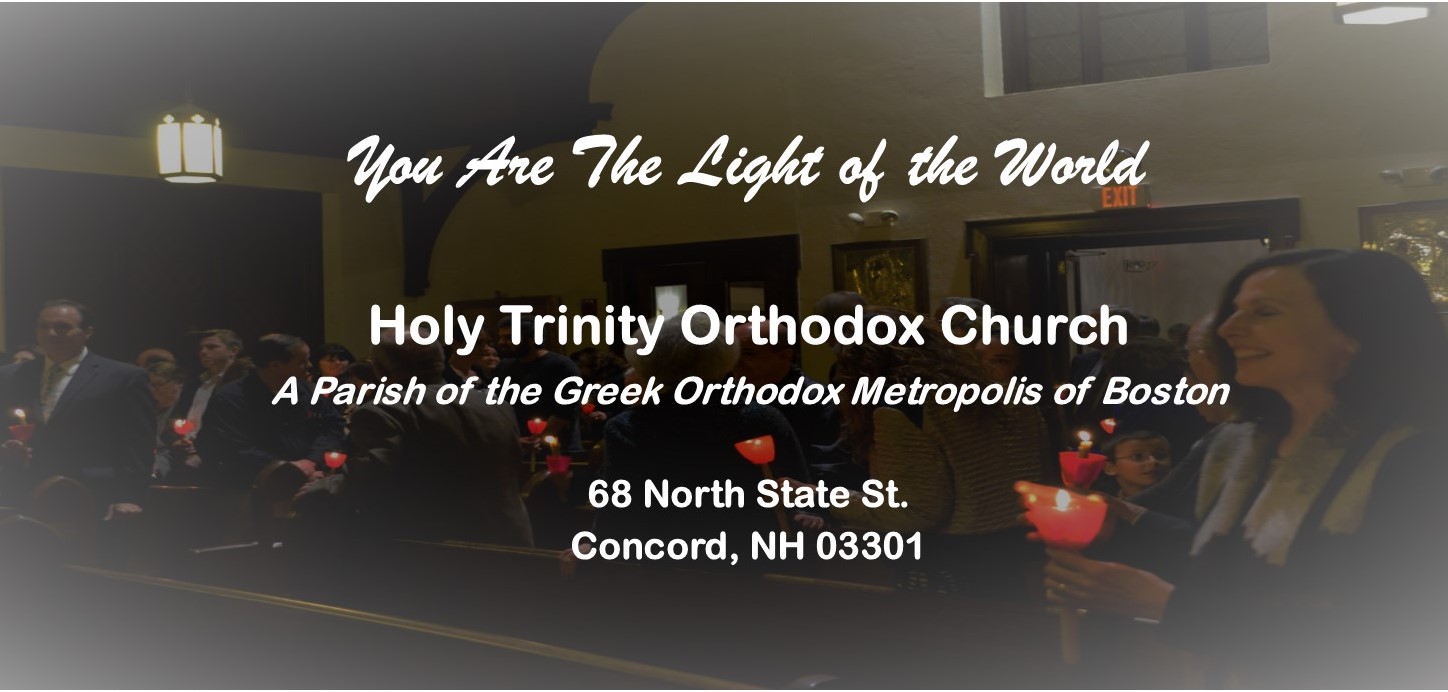 A Community promoting and implementing Orthodox Christianity
Through Faith, Worship, Philanthropy, and Welcome

Services Schedule
Our church is open for regular services with a congregation. Divine Liturgy on Sundays and Weekdays is at 10:00 am; our 2nd Wednesday of the month Paraklesis (Supplication) Service is at 10:00 am.
For anyone wanting to come to Liturgy with a smaller crowd, there will be one extra weekday Liturgy each week. Please see the Liturgical Schedule for these scheduled Liturgies.
In order to participate in the live-streaming of the Services, please click here. Before Liturgy, please go to http://www.holytrinitynh.org/media/light-a-candle.
INSTRUCTIONS FOR THE REOPENING OF THE CHURCH
The following guidelines have been laid out by the Parish Council in accordance with the guidelines of the governor of New Hampshire, the CDC, and of our Metropolitan
Two principles, above and beyond all, need to be adhered to—patience and humility/obedience. It is important to patiently endure the change of routine when you come to church and to follow the directions of the Council members, or of whoever is officially giving directions.
Another important thing to remember is that there is to be no "virtue signaling." This attitude is only one of pride and judgment, and has no place in the life of an Orthodox Christian. So, for example, if you come to Communion because you are not afraid, and someone else does not, you are not to judge them as being somehow inferior in the faith. We are, each of us, trying to find our way through a unique circumstance, and we must pray for one another rather than judging one another.
When you arrive at church, please enter by the Chapel Str. Door. You will be greeted by a Council member or someone delegated by the council. You will be asked to check off your name of the parish list. The Council member will ask you a number of questions concerning the symptoms of the virus. Again, PLEASE DO NOT COME TO CHURCH IF YOU ARE EXPERIENCING ANY OF THE POSSIBLE SYMPTOMS. There will always be another opportunity. Your love for your fellow parishioners should inspire you to want to keep them safe.
Please be sure to wear a face mask. Children between 2 and 5 should wear a mask at the discretion of the parents; children under 2 should not wear masks. You may remove the mask when receiving Communion.
You will then be directed to go up the stairs. You might want to wash your hands in the bathroom before going up the stairs. You may also have to wait at the base of the stairs until the people ahead of you have entered the church.
In the Narthex, a Council member or delegated person will ask you how many candles you would like and hand them to you. Do not pick up candles yourself. Also, if you want a 7 day candle lit, the Council member will do this for you and take it for you to the candle stand. We want to avoid unnecessary traffic in the church. Also, please consider giving your contributions for candles and trays on line (www.holytrinitynh.org). The donation button is at the upper right hand side of each page of the website. There you can make donations for candles and trays, you can pay stewardship or make memorial donations. You do not have to bring cash to the church at all.
For safety sake the icons in the Narthex will be removed. There will be some icons on the walls behind the candle stands. You may venerate these icons by making a cross and bowing. Please DO NOT KISS THE ICONS IN THE CHURCH; venerate them with a bow and the cross.
A Council member will direct you to your seat; please do not try to sit in your usual place, but go to where the Council member directs you. Family members who live together may sit together, otherwise everyone should maintain a distance of 6 ft. There will be tape on the pews indicating where you may sit.
When it is time for Communion, a Council member will direct you pew by pew (do not buck the line but wait your turn). You will go up the middle aisle and maintain a 6 foot distance (there are markings on the floor to aid you in this).
According to the Metropolitan's instructions, Communion will be given in the traditional way. As Orthodox Christians we believe that the bread and wine are truly the life-giving Body and Blood of Christ and, as such, cannot convey disease. You should hold the Communion cloth under your chin, but do not wipe your mouth with it. Do not take your own antidoron; there will be an assistant who will hand you the antidoron with a tongs. The same method will also be in place for the antidoron at the end of Liturgy.
There will be an extra Liturgy celebrated each week (different days, depending on the feasts or the saints commemorated that week). If you would prefer to avoid a larger crowd, or if you would like to leave an extra space for another person on Sunday, you may wish to come for Liturgy during the week. The same precautions are in place during the week as on Sundays.
If we all cooperate and approach these inconveniences in the spirit of our faith and love, everything will run smoothly. Your Parish Council is there to help you through these times; they are not the enemy, please do not become impatient, or begin to yell or argue with them. We should bear this cross in union with our Lord who, although being God in the flesh, did not hesitate to suffer far more severe things than this!
May our Lady the Panagia and St. Nikephoros the Leper intercede for our safety and protection.
---
*** PARISH LIFE ***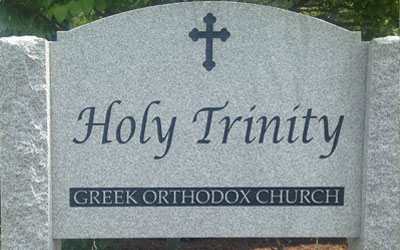 Learn about our community, history, and parish ministry and leadership team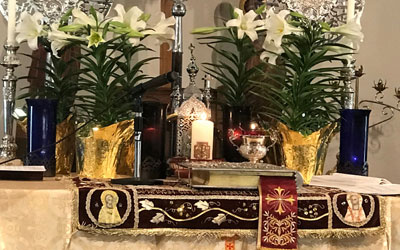 See our calendar of services and upcoming events!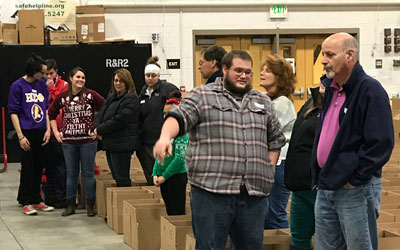 Being Christ's presence in our Parish and the world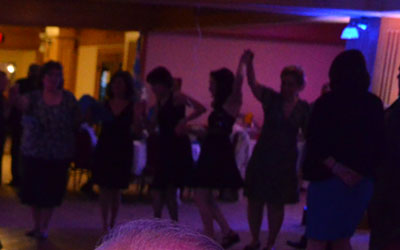 Bible studies, festivals, and more! There's a lot happening at Holy Trinity!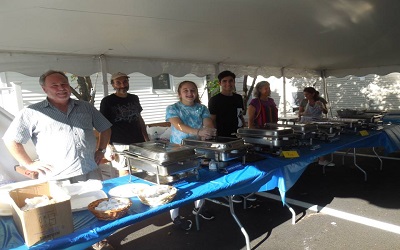 Opa! Festival 2019 Information
*** LIVING FAITH ***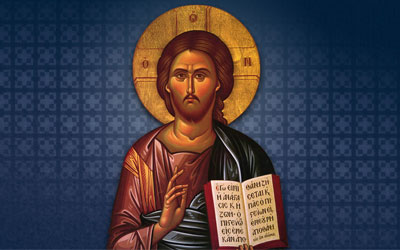 Since Worship is so important to Orthodoxy, the best introduction to the Orthodox Church is for the non-Orthodox to attend the Divine Liturgy!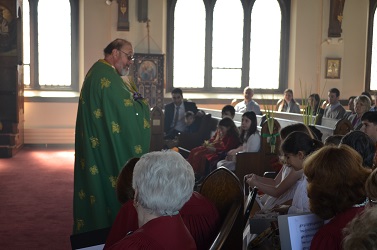 Thinking of visiting Holy Trinity for the first time? Here are some helpful suggestions to make that first experience easier.